I've heard it said that Coke will remove grease stains from your clothing. So I did the research, tried it out and sure enough... It really does work! It doesn't clean, so you will need to use detergent as well.. but it does in fact remove the grease stains and odor from clothes.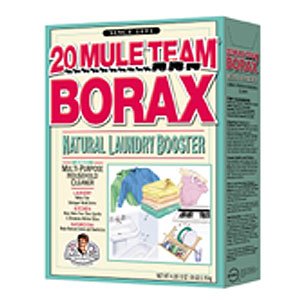 I found this Borax at the grocery store in the cleaning isle. It cost 2.50 for a medium sized box (4lbs). It's an amazing product!! It just gives a little boost to your detergent. I try to do a quick spot check to my laundry before throwing it in, but at times i do miss spots... This has really come in handy for that purpose.
Borax is can also be used to clean a porcelain tub, hard water stains, delicates in the wash, it removes odor from garbage pails, and is soft enough for delicate china. I use it for those hard to reach areas in the toilet as well. I just pour some into the bowl before bed, swish and flush the next morning and it practically sparkles! I also used it to clean my drip pans on my stove (that were waaaay over due) I just soaked them and used a scrub brush and now they look brand new again!! Try it out and let me know how it works for you!!